How Clothing Manufacturers Help Growing Brands Reach a 5-Star Rating on Trustpilot
There are many methods a clothing manufacturer can help a clothing brand be regarded as excellent and rewarded with positive reviews on websites like Trustpilot. The one that prevails in the textile industry is this:
• The supply chain is invisible and the workers work for peanuts under unsafe conditions.
• The brand spews out false statements that bluewash and greenwash its customers to believe that the product is of high quality, made by happy people in eco-friendly circumstances.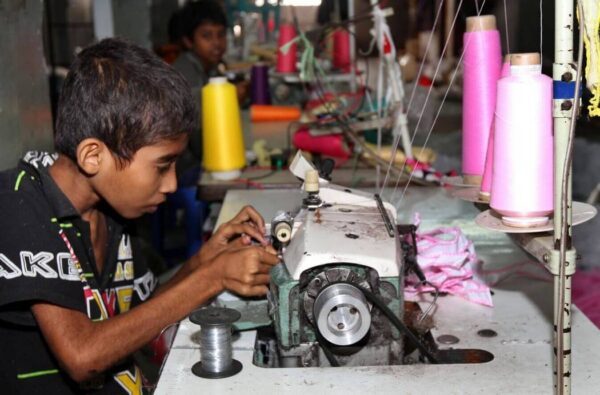 Child labour is often why some brands hide their supply chain
We don't want to talk about that method.
We want to talk about active ways of contributing as a clothing manufacturer that doesn't partake in a corporate web of mega brands that despise humanity as it is, especially the garment workers.
If you are one of those brands that somehow stumbled upon our website, we're too expensive for you anyway (we don't pay poverty wages, sorry). That is why we have to kindly ask you to leave. Security!
Now that we have that settled, here are the two methods we believe contribute to a growing brand's good reputation.
1. Ability to create clothes of the highest possible quality
2. Flexibility in production
1. Ability to create clothes of the highest possible quality
You must have an impeccable product to bear the 5-star rating on Trustpilot. Only reliable clothing manufacturers can make impeccable products but finding one is not easy. Knowing what doesn't make a clothing manufacturer a reliable one is equally important as knowing what does, so let's explore some red flags.
First of all, if your potential supplier's main benefit is the incredibly low price, chances are that's the only benefit. Here's why.
Low price = low respect and high error probability
Chances are that such a clothing manufacturer probably overburdens the workforce. That way, the factory owner ensures that high order numbers balance out the low price of each order. That often leads to burnout and, consequently, mistakes. And mistakes don't amount to good ratings, especially for a brand at the start of its journey.
Regardless of how much we automatise production, the 4th industrial revolution won't affect the clothing industry significantly for the foreseeable future. So the human factor remains the main one in our industry. Therefore, the people are the most valuable resource of garment production and should receive our utmost respect and care, which they often don't as we've seen in repeated crimes against them in the form of stolen severance pay during the pandemic.
Fast fashion will fade away, don't fade away with it
In the scenario where quantity must make up for the low price, there's less room for respectful and caring treatment of the garment manufacturer's employees. Consequently, the revolving door culture starts growing roots, which is bad on so many levels. With a product made in such circumstances, you'll eventually get your brand name connected with the infamous malpractices of our industry. Diverting people's attention from this is something that huge fast fashion brands invest a lot into.
You don't have that luxury and, most probably, the budget to follow suit. More importantly, the world's approach to fashion is slowly but steadily steering away from mindless consumption and will eventually mark the end of fast fashion for good (probably not in our lifetime, but still). Hop on the bandwagon while it's moving slowly.
2. Flexibility in production
A brand should deliver on its promise the most when making a name for itself. Selling only quality products is chief among promises. A flexible manufacturer helps with that.
Since an apparel brand in the making could shift its product focus as its audience is growing, a clothing manufacturer working for that brand must be flexible. Big manufacturers are efficient but aren't flexible. It takes a while to switch from one garment type to another. Here's where you want to rely on a smaller clothing factory.
Smaller factories = bigger flexibility
Smaller teams don't take too long to switch between production phases. Mostly because they usually offer a lower MOQ to their clients and, as such, often handle numerous smaller orders at a time. Consequently, such a workforce is comfortable working on different garment types continuously. This is extremely important if you have a detailed tech pack you can send to your potential garment production partner.
Spirit of togetherness in small teams
If you've ever worked in a company that started small and grew throughout the years, think back to the growing phase. Wouldn't you agree that the team spirit was the strongest "back in the day"?
The smaller the collective, the bigger the bond between the people within it. And that's as true for clothing manufacturers as for any other company. FUSH˚ is right in the middle of this scale – we have a small team in Belgrade and a medium-sized team in Oraovica. Our total workforce is just under 200 people.
Potential concern
Let's say your brand did all this and started growing. Suddenly, relying on that one small quantity garment manufacturer might become a problem because your demands have suddenly increased. This doesn't mean that you should give up on the idea of working with smaller teams. It means you should start looking for them in the vicinity of your target markets.
That goes perfectly well with the concept of nearshoring – sourcing the product from a supplier physically near you or your target audience.
To learn more about our clothing production abilities, the following pages will help you a great deal:
Get in touch with us and find out our price estimates and lead times. Fill out the contact form below.
Request a quote from us
To get the best possible price and lead time estimate, please include the number of designs and pieces per design, fabric choice, sizes, and printing options.